Artiste que j'avais découvert avec sa chanson "BEEF" contre Daz, intitulé "What's Beef"...
40 Glocc (cousin de Gail Gotti) de son vrai nom Tory Gasaway né le 16 December 1979 à Galveston, au Texas. Il atterit par la suite en Californie (Inland Empire). Et depuis pres de un an, il a fait comme beaucoup, la bêtise de signer chez G-Unit....
En 1997 il forme le groupe Zoo Crew, avec K-9 & Natural Born. Le groupe sort un album intitulé "Migrate, Adapt or Die", qui est produit par Tony & Julio G.
Ensuite il se lance en solo avec Tha Jakal avec le " Hi-Power Soldierz crew". L'album sort en 2003 sur Empire Music Werks.
Malgré ses origines sudistes, 40 Glocc nous montre avec cet album qu'il est bel et bien influencé West.
Bref un très bon album dans l'ensemble (à mon gout), un flow pas mal sur des prods qui le sont tout autant!
Enfin normal quand on s'entoure de grosses pointures aux prods comme aux feats, en effet les prods sont signé: Battlecat, Dr Dre, Proteje, Bigman, Rock The World, Lexx, Kwame, Pit Boss, Storm, Cavelear.
Et donc pour les feats, l'affiche est aussi bien fournie, avec: Mac Minister, Kurupt, Ras Kass, Bad Azz, Mr. Shadow, Suga Free, W/S Bugg, Kay Tray The Enforcer, Lil Tute, Sweeny, Toot Toot, Spice 1, Tray Deee, Riggamortis, Little, Champ & Shells, K.B, Cavelear, Laura.
Un album bien complet, à écouter!
Sinon il a réaliser des mixtapes et des feats avec ses nouveaux potes de chez G-Unit, mais je n'ai pas encore écouter....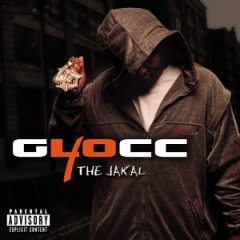 01. Intro
02. Zoo Life
03. Everybody (prod Battlecat)
04. Ohh!
05. Gladiator
06. Till We Meet Again
07. What Type?
08. Leave Me Alone feat Mr. Shadow and Suga Free
09. Interlude
10. Click Click
11. Interlude
12. Gold Rush
13. Game
14. Papa Lil' Soldier (prod Dr Dre)
15. Love You Baby
16. Sittin' On 20s
17. Gentleman Of Leisure
18. Mink Coat (prod Bigman)
19. Get Live
20. Move
21. Seventh Sign
En bonus un petit clip (youtube), le morceau n'apparait pas dans l'album!!!
40 Glocc - Where Them Hammerz At?