The new album from XL Middleton entitled
100 Proof Music: The Alcothology
is coming on Feb. 28th, 2006. You'll be able to get it from
http://www.crowncityentertainment.com
,
http://www.cdbaby.com
, and the Tower Records website. Here's a little preview of the cover: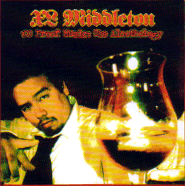 And here's the tracklisting:
1. Intro - The Alcothology
2. 100 Proof Music (feat. Tha Shock Doctor)
3. Only Way 2 Chill
4. 3 Wishes
5. Kinda Faded
6. Square Off (feat. K-Duece & Non-Cents)
7. Wish I Never Cheated Wit U
8. This Is For...
9. Cash Out (feat. Gr8 Dane & D'Zire)
10. We Could Do This Everyday (feat. Rev)
11. Yall Dont Feel Me (feat. Black & Mild)
12. Serious Bars (feat. 1stBorn & Young Hootie)
13. Aint No Heaven (feat. Coolwadda of Chico & Coolwadda)
14. The Party's Almost Over (feat. Mista Mil)
15. Shit Talkers Skit
16. Dena City Council (feat. Black & Mild, S-Dee, & Gr8 Dane)
BONUS TRACK
17. Feel So West Coast Remix (feat. Young Tremayne & Big Wy)
Production on this album was done by Yours Tipsy XL Middleton, Sic Sense, 1stBorn, Mista Mil, Bumpus, & DJ Glaze of Foesum.
Feb. 28th come get a bar of that West Coast Renaissance shit...not that New West shit cuz that aint me...the WEST COAST RENAISSANCE!!!